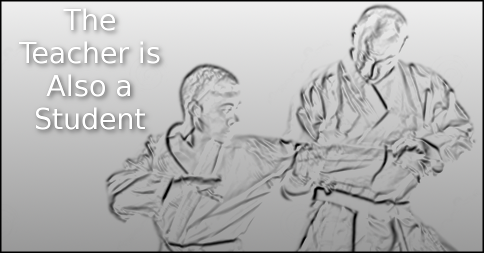 For a little over two years now I've been helping out with teaching beginners. Normally this doesn't happen until one reaches the rank I earned back in August (2017), but circumstances in two dojo(s) called for me to step up to the plate. I'm grateful for the teaching I did when I was a teenager  and the research I did into how people learn  before I started home schooling my children. All that said, I'm still learning about teaching and I'm still learning as I teach.
I studied Karate first as a teenager under a different organization. Some of the sensei(s) broke away to form their own organization – among them my dojo sensei's assistant. My dojo sensei began to rely very heavily on senior students and she saw my potential. I started teaching "first lesson is free" people and getting new students up to speed so they could join the beginner class. I learned how to adjust my teaching according to each individual's need. I think the biggest lesson I learned was that everyone in the dojo believed in my ability to teach. For someone who was routinely put down at school learning that I have a talent that people respect was a wonderful and powerful lesson.
As I've covered in previous blog posts, I quit Karate for 27 years and during some of those years I home schooled my children. Researching learning preferences and tweaking lessons to meet my daughters' needs on an hourly basis taught me a lot about my ability to improvise. My daughters are both "out of the box" – one is gifted, the other is autistic. I was very inventive during those years and I tried hard to transmit my passion for learning to my daughters. I became sensitive to things that work and things that don't work, and moment by moment I adjusted my teaching accordingly. Of course when the time came I brought these skills to my assistant-teaching at the dojo(s) where I now train.
During my teenage and home school years I was teaching very small groups or one-on-one. This continued for awhile starting roughly two years ago. Since then I have been occasionally given opportunities to lead class for groups of roughly ten or twelve people. Often there is a deadline to meet, so certain skills must be built by the end of the class. I've had to learn how to back off a little from those individuals who are struggling. Either there will be time after class to address their needs or they will practice on their own. It's hard for me to do this because I'm so used to making everything work for everyone, and that's possible with groups of up to four people but not for the larger groups I'm learning to teach.  Teaching larger groups of people who need to be up to speed on specific skills by a certain date is something I'm still learning how to do.
I recently led class for ten beginners.  Something I didn't think about much before that day is the importance of the role I usually play:  assistant instructor.  Don't get me wrong, none of my sensei(s) have ever taken me for granted and I know they appreciate me.  It's just that when I stepped into the role of instructor I got another perspective on the value of an assistant.  My assistant the day I led a beginner's class was a young man who is five ranks below me. Giving him his chance to help teach was gratifying to me. Also I knew I could count on him to help me demonstrate what I was teaching. I had the class switch partners frequently and I heard him helping his partners if they were struggling. It was nice to know that he would take care of at least one student while I was busy helping others. I came away from that class with a deeper appreciation of my own role.
For that particular class I had to come up with a lesson plan. This in itself is nothing new to me – I learned to do this from home schooling my children. However I never worried much about time in home school. I had fifty minutes for this class. Less – probably 40 minutes of actual teaching. I had to leave time for opening and closing ceremonies, taking attendance, and cushions of time for setting up the room (we ran two minutes over time) and changing equipment. My plan coalesced a few days prior when I saw some definite needs in the students' jiyu kumite (sparring). I'm glad to say that my lesson plan went well and we had enough time for very nearly everything that I'd come up with (I had planned an extra drill just in case I needed to fill some time). Even though things went well this first time I will most definitely need to further develop my skill in planning out material that fits the time slot and meets the students needs.
I've been told over and over that one way to improve skills is to teach them. I've seen that with kata (forms) and kihon (basics). Now I've seen it with kumite (sparring). At sparring class the next night after teaching I found myself doing exactly what I'd taught the day before. It's not something I've drilled much but it was simple enough for beginners. I had not done many reps myself, but of course I had to break things down for the students and help those who didn't quite understand right away. I had the students get out of the way of oi tsuki and mae gheri by slicing forward at a 45 degree angle. The next night I was fighting someone who usually keeps me on my toes. I used exactly what I'd taught and I wasn't sucking air after fighting him like I usually do. It was like magic, and was just what I needed. I haven't been feeling good about my sparring for a few months now, but now I know I'm back on track – at least when it comes to sparring with that particular fellow student!
Yes, I've learned a good deal about teaching but I've also learned about how to improve myself through teaching. It's not just being a better and better teacher and it's not just building my skills. It's also building my patience. I'm learning more about communicating. I'm learning about turning students around when they're not engaged. That's an ongoing process because students can be very creative in their way of expressing their desires to do anything but what the teacher would like them to do. Sometimes buttons get inadvertently pushed – either the teacher or the student is triggered. As the senior in rank, I have to overcome my own stuff in order to be a good example and to think creatively so that the student and the class can get back on track. Everyone wins, but sometimes I think the teacher gains oh so much more – not because the class is running smoothly but because the teacher has overcome his or her own self in order to make that happen.
It may sound like from this article that I'm mostly "there" already. In some respects, maybe I am. What I bring to the dojo from my life experiences helps.  But there's a lot I still need to learn about teaching Karate specifically and I'm grateful for my mentors. I am also learning how to work within guidelines set by my dojo sensei and not by myself! There's always more to learn from my mentors and peers about what works and what doesn't work. Through seminars and the Internet martial artists can swap creative ideas for teaching others. Every so often I'll buy a book about martial arts and when I'm teaching I'll use what I've gleaned. Keeping things fresh and sharing experience benefits everyone! And that's what teaching is all about – making everyone better then they were when they walked in. I was reminded at a recent seminar that teaching a class is not about me making everyone else do what I want in order to raise my status and puff up my ego. The seminar leader reminded us that we're all learning together.